Hi Author and Blogger friends,
My goal with this blog is to bring you the support and resources you need to succeed as a writer.
And you know as well as I do that as much as we love it, writing can be as challenging as it is rewarding.
There are characters to develop, and worlds to build—and destroy…
Are you going to plan your novel from start to finish, or just go with the flow?…
Then you have the secrets of storytelling to uncover and explore.
So many things to consider.
Thankfully, you don't have to figure it all out alone. And I can also recommend a phenomenal resource that can help you hone your writing skills on every level.
This post contains affiliate links, which means I receive a small commission, at no extra cost to you, if you make a purchase using these links.
I give you The Writer's Craft Super Stack.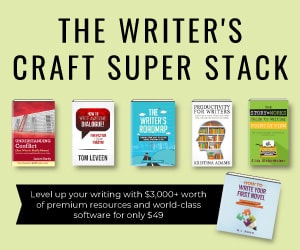 The guys at Infostack have crammed The Writer's Craft Super Stack with over 50 amazing e–courses, software trials, ebooks, and coupons. They include:
19 bestselling eBooks and 19 premium eCourses, masterclasses and training programs that cover everything from writing children's picture books to novels and page-turning thrillers. You'll learn about the storytelling secrets Netflix uses to make binge-worthy television shows. Or get your characters into line with advice from award-winning authors.
8 exclusive trials for best-in-class software (Writer Duet, anyone?) to help you outline your novel, plan your writing and become a productivity machine.
3 amazing 50% coupons, including a phenomenal discount on cover design that will help your books fly off Amazon's shelves. And so much more.
It's worth an eye-watering $4,162.61.
But this week, you can get everything for only $49.


And I should point out that this Stack goes into retirement forever after Thursday 26th March.
My hope is that you'll take a look, and, if it feels like the right fit for you, you'll pick up your own copy before this amazing deal expires.
That's it for today.
Take care!
Suzette- My Write Hand VA
P.s. I forgot to mention: there's absolutely no risk to check out this deal. You see, the guys over at Infostack have a best-in-class, 60-day, no questions asked, money-back guarantee. That means you can get instant access to everything in this bundle today, and take the next 60-days to decide if it's the right fit for you.
Click here to learn more about this exclusive deal.